Join Sam Hunter to Make a Big Block Tumble Quilt
Join local pattern designer Sam Hunter, of Hunter's Design Studio, for a fun-filled day of quiltmaking. She'll be here in-store, to teach her deceptively simply Big Block Tumble pattern. The blocks are made from only three fabrics (a light, medium and dark) with clever construction to avoid the dreaded Y-seam. You'll find it's a quick and easy quilt, perfect for baby or make a bigger one for your bed.
Big Block Tumble Quilt
Sunday, April 12
10 a.m. to 5 p.m.
Fabric Depot Classroom
$78 thru Eventbrite
BRING TO CLASS:
• Big Block Tumble pattern
• Fabrics for the quilt size you want to make (Lap: 1 1/4yd. light, 1 1/2 yd. medium, 1 1/4 yd. dark)
• Creative Grids 60° 8" Triangle Ruler
• Sewing machine in good working order + power cord and pedal (If your sewing machine has a table extension, bring it - it makes sewing the strips more accurate
• Spare sewing machine needles
• Cutting mat at least 18'' x 24'' (we'll be making big cuts) and rotary cutter (do you need a new blade?)
• Ruler at least 18'' long
• Thread to match, or neutral thread + one wound bobbin of thread
• Scissors, pins, seam ripper, other sewing supplies, etc. (NOTE: Put your name on everything!)
• Your favorite beverage, lunch, and afternoon snacks or chocolate!
Did you know you can buy your class materials online and have them waiting for you to pick up at Special Orders on the day of the class? Just choose in-store pickup when you place your order.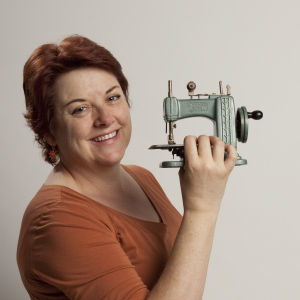 Sam Hunter sews and designs from her studio in Portland, Oregon and is the woman behind Hunter's Design Studios. She has designed dozens of quilts, many with patterns currently available, and has taught quilting for more than 20 years. Her first book, Quilt Talk, is available now.
You can find out more about her patterns, design work and $ew Worth It campaign at huntersdesignstudio.com